Endless Pools
The Swim Spa, Reimagined
The Endless Pools® Swim Machine
For a superior swim-in-place experience, look no further than the Endless Pools® Swim Machine. Its custom-made, hydraulically powered propulsion system creates a laminar current of up to 19,000 litres per minute that is wider than your body and deeper than your stroke. Multiple conditioning grills smooth and redirect the water, resulting in a swim current that is free of turbulence. Even at full power, it feels like swimming in a the smooth current of open water.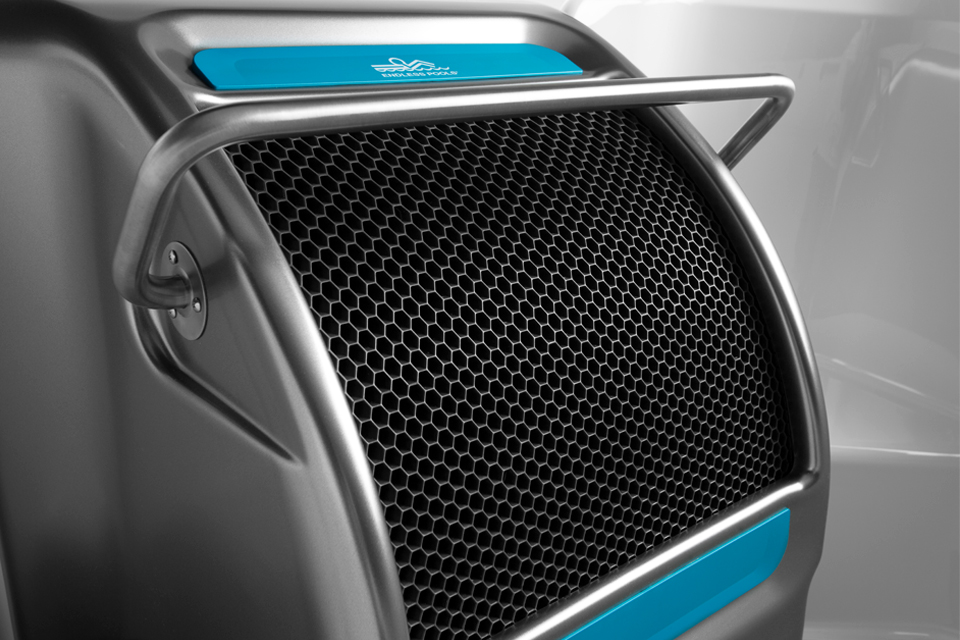 Endless Pools® Underwater Treadmill
The Endless Pools® hydraulically powered underwater treadmill offers low-impact run or walk options. You'll enjoy building cardiovascular strength without experiencing the muscle and joint pressure associated with land-based workouts. Vary the treadmill speed for a gentle walk or an invigorating run. For a more challenging workout turn on the swim current and you will experience increased resistance against core, leg and upper body muscle groups. The treadmill has a speed range of 0.16 to 8.9 KPH.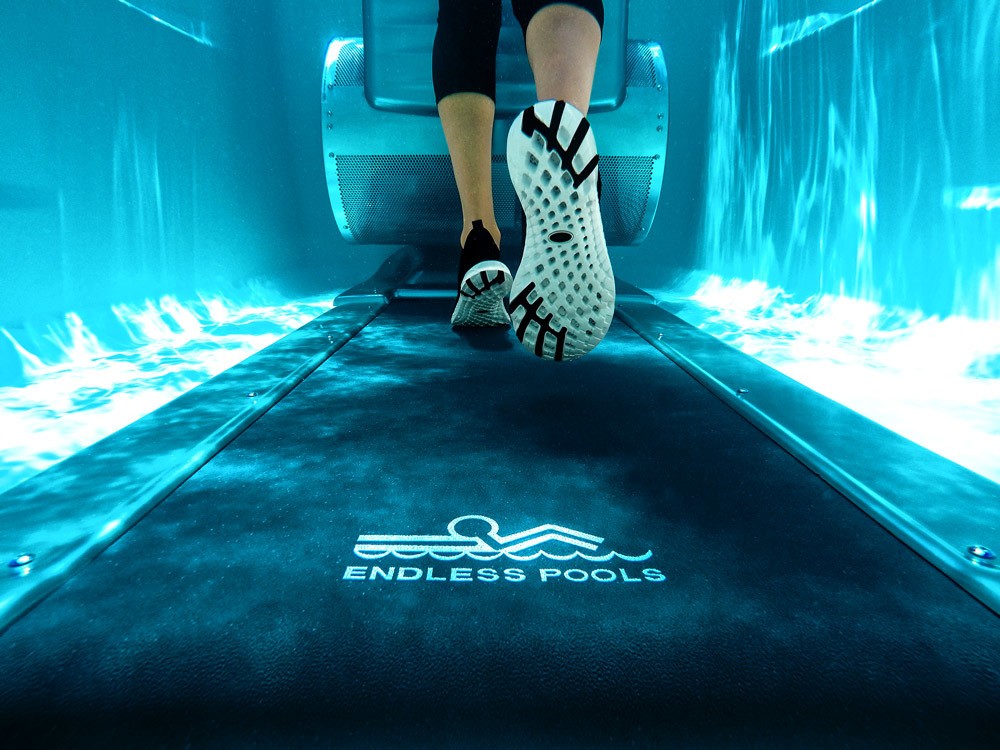 Hydro-massage Spa Seating
After you exercise, enjoy a workout cool-down in the comfort of spa seating where hydro-massage jets soothe your muscles. Perfectly positioned in two captain's chairs with pillows, plus a third middle seat, four jet types are combined in three configurations to deliver an ideal post-workout relaxation experience. 
Strength and Quality By Design
All Endless Pools® Fitness Systems and SwimCross™ Exercise Systems feature a durable, two millimetre galvanised steel frame and ABS base pan which together provide superior support and protection from ground contact. 
We're concerned with your experience for the life of your Fitness or Exercise System ownership. we look deeper, creating great design that you can see as well as great design that quietly adds significant value. 
Control and Aux Panels
The LCD control panel makes it easy to navigate all the functions you need. You can set the water temperature, manage water care and control the interior lighting and hydro-massage jets. Some Endless Pools® Fitness Systems models also include an auxiliary control panel, located on the opposite side from the main panel for added convenience when controlling lighting and hydro-massage jets.
Install the option plug-and-play Wi-Fi and Mobile App and you'll gain full control of the system's temperature, lights and jets from any Wi-Fi-enabled device. 
Energy Efficiency
Keeping your energy bill low is important. The Tri-Thermic™ Barrier System, a standard feature on all Fitness and Exercise Systems, provides three layers of insulation to conserve heat, enhance the energy efficiency and lower operating costs.
The system's three layers include a two centimetre, 32kg/m3 density EPS (Expanded Polystyrene) foam and reflective film attached to the inside of the cabinet, combined with a 5 centimetre thick heat blanked made of high-quality recycled textile fibers and foil film, attached on the inside of the steel frame. Together these materials provide maximum thermal performance. 
AN AMAZING FITNESS SYSTEM AT YOUR PLACE
A swim spa is an oversized spa pool that has been cleverly designed to allow you to swim, jog and work out using the power of jets to keep your motion stationery. It provides a low-impact workout, set at the pace you want to train at – with all the benefits of hydro-therapy and massage while you workout. You can include intense strength and resistance training or opt for lighter walking or swim exercises. Then relax and soothe tired muscles in the comfort of the integrated spa pool.
And because swim spas are usually larger than normal spa pools you have more room for relaxing or more room for family and friends. An Endless Pools® Fitness System and Swim Spa from the makers of Hot Spring® Spas, truly is a versatile option for the backyard.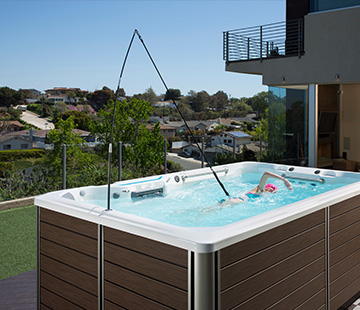 Swim Tether
All models come equipped with an anchor for attaching our optional swim tether. For beginning swimmer of for anyone looking to improve his or her swimming form, it provides added stability and assistance in maintaining your body position in the current. 
Row Bar Kit with Resistance Gear
Rowing is an exceptional cardiovascular exercise that keeps the heart rate elevated and strengthens core muscles. Attach resistance bands to the sturdy handrails for added workout options.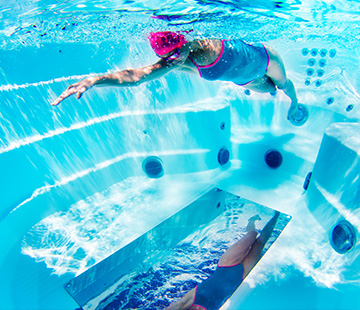 Underwater Mirror
See yourself swim in place and refine your form for improved performance with the option 61 x 130 cm stainless steel mirror. Placed on the floor of any Fitness or Exercise System, its weight distribution ensures that the mirror stays securely in place.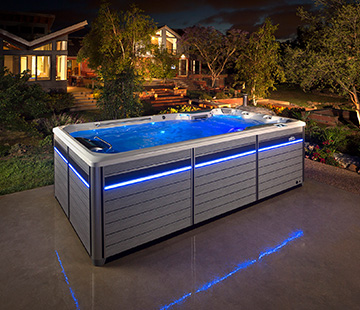 LED Illumination
Illuminate the night for a dramatic impact. The blue LED Perimeter Illumination beckons you to enjoy a relaxing dip after a long day while a 13 cm main interior light and multi-colour LED points of light provide ample brilliance and beauty.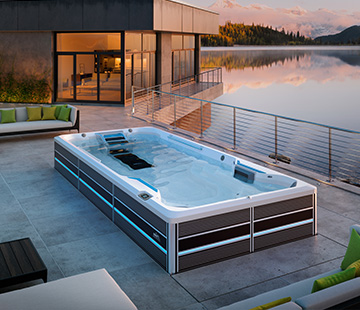 Maintenance Free Cabinet and Acrylic Shell Design
All Fitness and Exercise Systems feature our maintenance-free cabinet and acrylic shell designed for durability and lasting beauty. Choose the  your cabinet and shell to complement your home décor and style preference.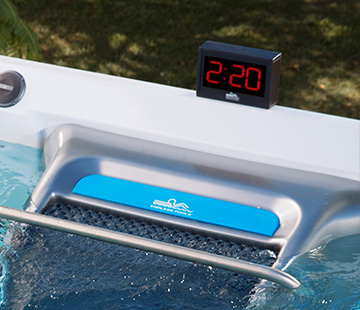 Pace Displays
The optional pace display is for any swim machine or treadmill user who wants to measure performance. It allows for easy reading of the swim current pace and/or treadmill speed. For swimmers, the pace is displayed in minutes per 91m, while the treadmill pace is shown in km per hour. 
 With individual pace displays for swim machine and treadmill, Fitness System owners can use both simultaneously for a more effective workout.