E2000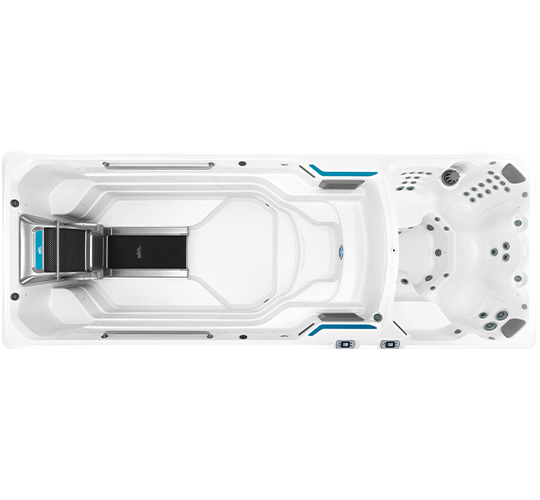 610 x 147 x 226 cm | Swim Side: 457 x 147 x 226 cm | Spa Side: 152 x 93 x 226 cm
Weight 1,903 kg (Dry) / 11,587 kg (Filled*)
*Includes water and 10 adults weighing 80 kgs each
Shell Colour Options 
Alpine White or Ice Grey
Cabinet Colour Options 
Dark Mocha or Grey Oak
Swim Technology 
Endless Pools® Swim Machine
5 HP Hydraulic Power Unit
Swim Side: Bench Seat
Spa Side: 4 Hydrotherapy Seats + Cool
Swim Side: Not Applicable
Spa Side: 34: 2 Large Jets, 2 Rotary Jets, 4 Directional Jets, 26 Mini Jets
Swim Side: Not Applicable
Spa Side: 2 - 2.5 HP Continuous Duty; 5.2 HP Breakdown Torque - 1 Speed Pumps
LCD Control Panel; 220 - 240v/1 x 24amp & 1 x 32amp, 50Hz
Swim Side: 2 Illuminated Waterfalls
Spa Side: 1 Illuminated Waterfall
Swim Side: UVC + CD Ozone
Spa Side: CD Ozone
Swim Side: High-Flow Circulation Pump
Spa Side: Circulation Pump
Effective Filtration Area
Swim Side: 19m2
Spa Side: 5m2
Swim Side: 14 Multi-Colour LED Points of Light
Spa Side: 12 Multi-Colour LED Points of Light
2 mm Galvanised Steel Frame
Thermoformed ABS Base Pan
Swim Side: 3000w/230v
Spa Side: 3000w/230v
Certified to the APSP 14 National Standard and the California Energy Commission (CEC) in accordance with California Law
Stainless Steel Grab Rails
Swim Side: 3 Satin Stainless Steel Rails
Spa Side: Not Applicable
8 Speakers + Subwoofer, Bluetooth® Enabled
Exercise Equipment Options
Swim Side: Swim Tether and Rowing Kit
Spa Side: Not Applicable
Vinyl Cover & Lifter Options
Watkins Bi-Fold Covers & Lifters or VacuSeal® Cover System
Endless Pools® Pace Display, Floor Mirror, Gecko® In.Touch Wi-Fi & Mobile App
ACCESSORIES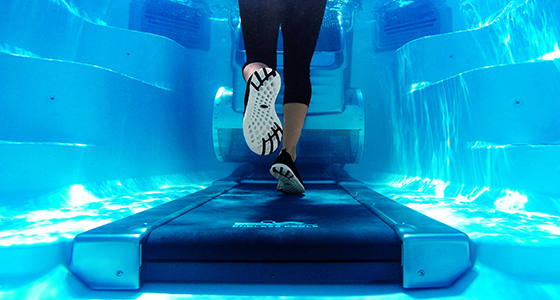 Underwater Treadmill
The Endless Pools® Fitness Systems is an optional, yet essential hydraulically powered underwater treadmill. It offers low-impact running and walking options in all 147cm depth Fitness System models, allowing for maximum power and optimal energy efficiency. Increase or decrease your running speed with your own water resistant remote control with a speed range of 0 to 8.8KpH.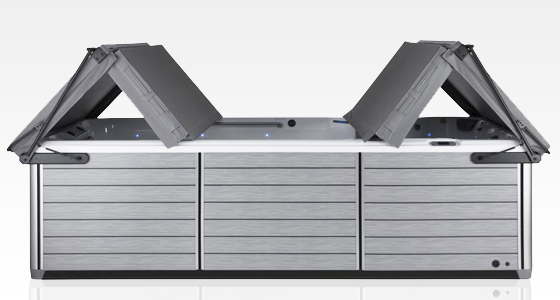 VacuSeal™ Lifting System
The VacuSeal Lifting System features a unique design ensuring a tight seal between covers and easier operation by a single user. Not only does it prevent heat loss and evaporation, but optimises the efficiency of your spa. Its patented "Reverse Pneumatic Technology" applies downward pressure on the cover to vacuum seal the two covers together. This eliminates the centre gap commonly found with traditional covers.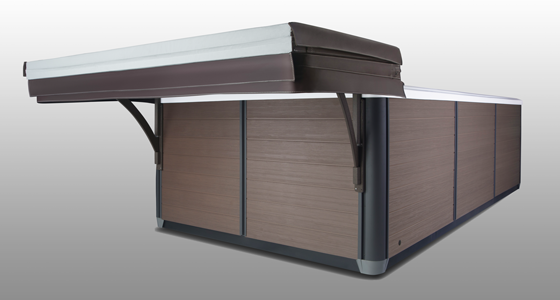 Easy Slider Cover Mount
The Easy Slider Cover Mount helps to remove Bi-fold covers by simply attaching the 'arms' to the cabinet corners, allowing customers to remove the covers without the weight of the cover itself. It not only eliminates the need for traditional lifters but does not obstruct your view when covers are in the open position.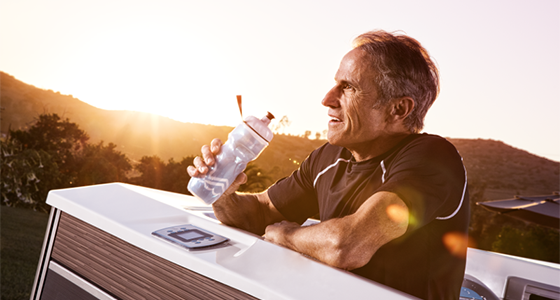 CoolZone® Cooling System
CoolZone works with the Fitness System components to efficiently cool or maintain water temperature, making it ideal for all-year-round use. Ideal for extreme climate areas, it makes changing and retaining your ideal water temperature a convenient and simple process.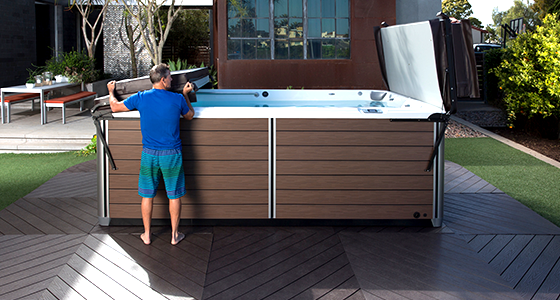 Watkins Cover Set and Lifter System
The Watkins Cover Set helps maintain heat and reduce evaporation used both on its own and in conjunction with the lifter system. The Watkins Lifter System includes two lifters and spacer kit, enabling you to position the Watkins covers vertically.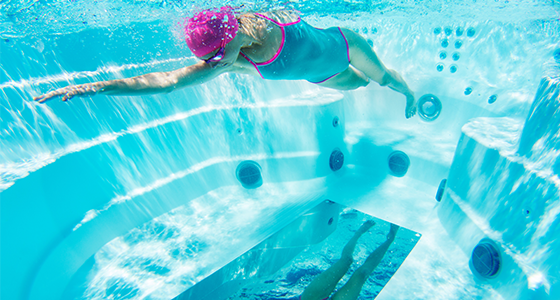 Underwater Mirror
Refine your stroke and form with the optional 60 x 130cm stainless steel underwater mirror. Its even weight distribution ensures it stays in place on the floor of any Fitness System. Not recommended for installation with the underwater treadmill.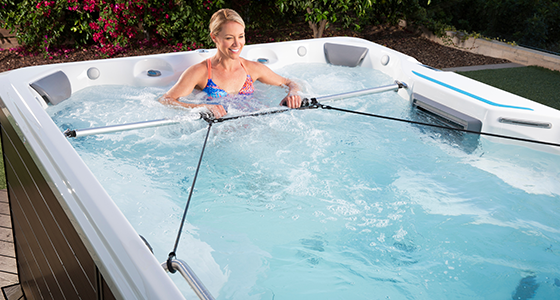 Row Bar Kit
Treat yourself to a low-impact, full body workout with the Row Bar Kit. Row bars and resistance gear can be attached to the built-in anchors and handrails to convert your spa to an underwater workout environment.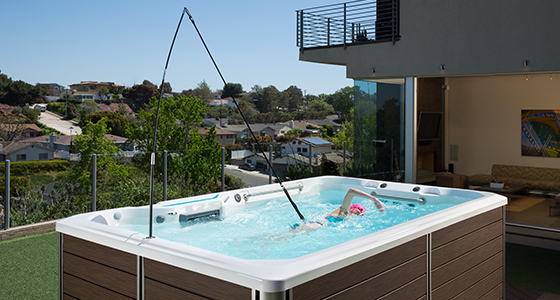 Swim Tether
The Swim Tether assists swimmers by providing additional assistance, vital for beginner swimmers or those looking to improve their swimming form.
Bluetooth®-Enabled Sound System
Listen to your favourite tunes in the privacy of your own spa with our Bluetooth®-enabled speakers. Simply pair your device to the integrated 8-speaker system through the handy control panel to set the mood for your spa - whether it be pumping tunes for your workout or a chilled, relaxed vibe for your swim.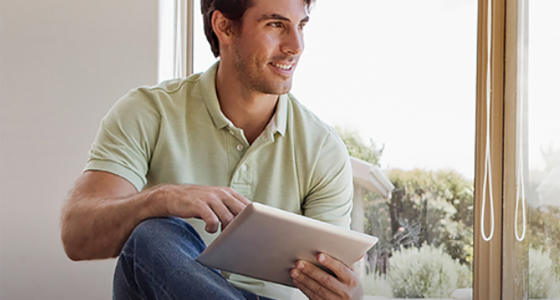 Gecko® In.Touch Mobile & WiFi Kit
Be in complete control with the optional plug-and-play Gecko® In.Touch Mobile & WiFi Kit from your WiFi-enabled tablet or mobile device. The connected mobile app will allow full control of the Fitness System's temperature, lights and jets.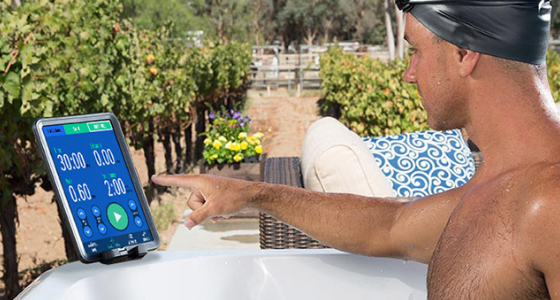 Fit@Home™ Mobile & Wifi Kit
Never before has a spa swim session been so easy! The Endless Pools® Fit@Home™ App allows you to control your Fitness System's pace and duration of the swim current, underwater treadmill or both!  Available with any smart device with with Fit@Home™ compatibility.
Resistance Bands
Take your underwater workout to the next level with our Resistance Bands. Attach the bands to built-in anchor points on your Endless Pools® Fitness System to add more resistance and strength training options to your workout. The set includes 3 pairs of colour-coded resistance bands suitable for al fitness levels (4.5, 7 and 9 kg), complete with comfort-grip handles.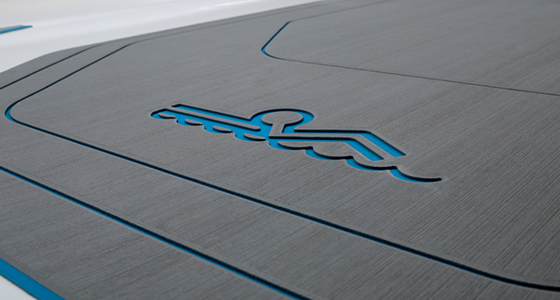 SwimDek® Surface Kits
SwimDek® Surface Kits offer a nonabsorbent traction surface ideal for spa-side exercise and play in complete comfort. Designed to withstand outdoor aquatic environments whilst retaining its functionality and look over time. Floor and Step Kits sold separately.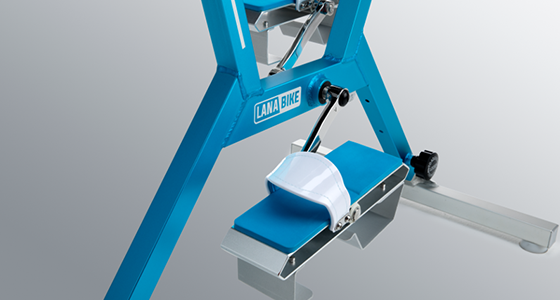 Aqua Bike
Give your lower body the ride of its life with our stationary aqua bike. Avoid the strain on your muscles and ligaments with this lightweight, yet effective workout addition. Ideal for low to medium intensity workouts, or position in front of the swim current for a more challenging ride.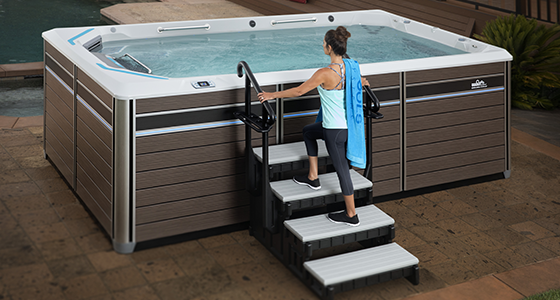 Signature Steps
Step easily into your Fitness System with our lightweight yet sturdy signature steps, complete with dual handrails, drink holder and towel bar. With everything you need for your next aqua workout, it's an option you won't want to pass up.
Want to know more? Contact us